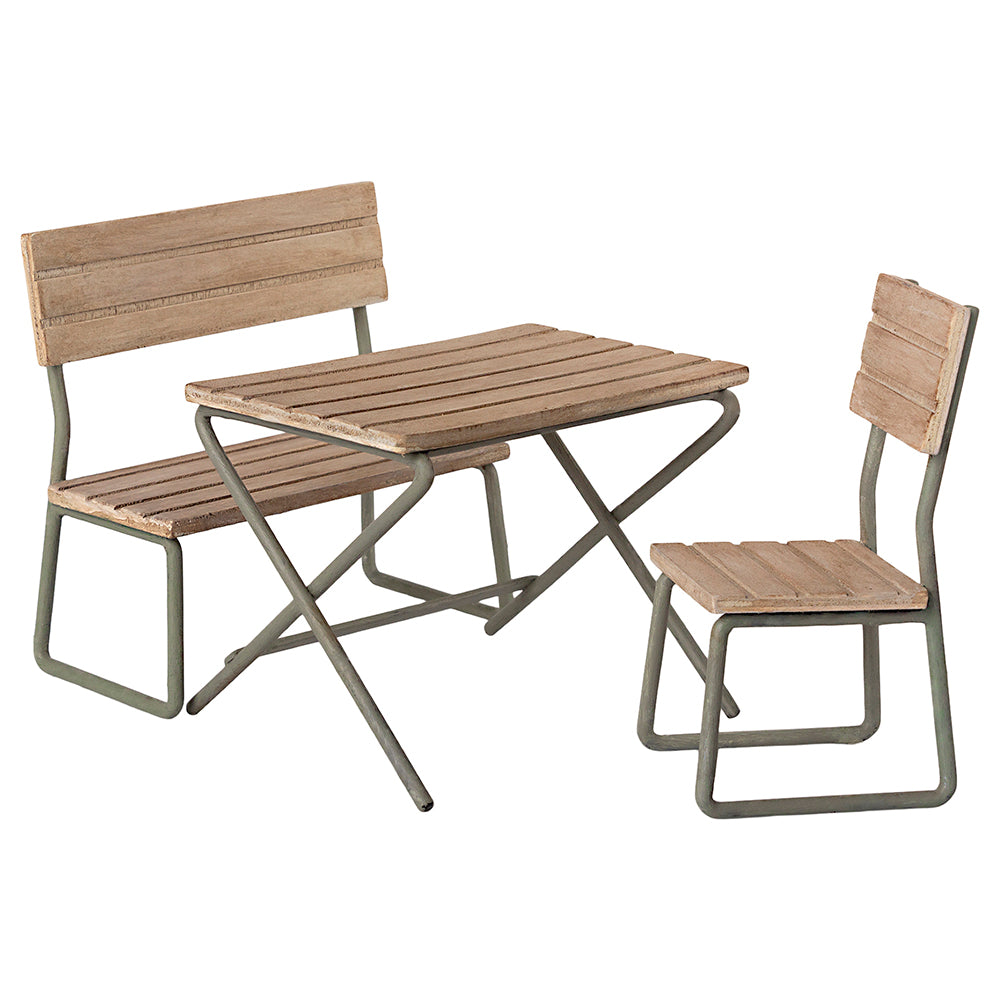 Maileg Miniature Garden Set - Table, Chair and Bench
MINIATURE FURNITURE: Suitable for the Teddy Family & Size 1 Bunnies & Rabbits. It fits the Maileg House of Miniatures, it does NOT fit smaller dolls houses such as the Maileg Castle or Farmhouse
The Maileg Garden Set, featuring a Table, Chair, and Bench is ideal for creating an inviting outdoor space for your summer get-togethers. Crafted with a metal base and a wooden top, it brings a delightful touch of nature to your Maileg world. 

This set is ideal for size 1 & 2 bunnies, rabbits, and the Teddy family and is also a perfect fit for the Maileg House of Miniatures Dolls House.
Table Height : 9 x 8 cm

Age: 3 years & up

Washing instruction: Surface wash

Material: FSC wood / Metal
Miniature Furniture is suitable for Teddies and Size 1 Bunnies & Rabbits. The miniature furniture fits in the Maileg House of Miniatures, but is NOT suitalbe for Farmhouse & Castles
Award-winning Danish company, Maileg (pronounced my'lye) is renowned for its charmingly designed toys that inspire magical playtime stories. The brand was founded in 1999 by Dorthe Mailil and her husband, wherein they combined their surname "Mailil" with the Danish word for play, "leg". As a designer and illustrator, Dorthe was able to create charming toys that boast meticulous attention to detail and storybook whimsy. The simplicity of the toys provides children with the opportunity to explore the pure and simple wonder of imagination. Meanwhile, each character possesses a heart-warming personality that anyone is sure to fall in love with!